Lava Run or

Single Lane Slip n Dip

Feel like a kid again when you ride the LAVA RUN!!   

Largest Selection of WATER RIDES around!!

Copyright  2006 - 2017 All Rights Reserved by www.harvestpartyrentals.com  Reproduction copying tampering redistribution or use of any material on this entire website strictly prohibited. Designated copyrights trademarks materials images text photographs brands or services shown on the website are the sole property of their respective owners. Use of this website constitutes acceptance of the www.harvestpartyrentals.com terms of use agreement and privacy policy.

birthday party / birthday parties / kids party / childrens party / kids parties / fall festivals / town events / carnivals / summer camp / family picnics / church camps / daycare events / family reunion / sunday school / fund raisers / company events / pool parties / backyard bbq / event rentals / family fun days / party rentals / corporate functions / canopy rentals / backyard bouncers / rent a dunk tank / backyard waterslide / rent bouncers / rent carnival games / rent waterslides / rent obstacle course / rent dry slides / concession machines / rent inflatables / rent a waterslide / rent bounce house / knoxville waterslide / rent bounce houses / rent a wet slide / rent a water slide / knoxville waterslide / party supplies / sevierville waterslide / party supply / sevierville party supply / knoxville waterslide /

seymor mega party / pigeon forge rentals /sevierville party rentals  / sevierville bounce / seymour party / seymour bounce / waterslide rentals / sevierville bounce house / bouncers / rent waterslide / knoxville bounce house

Don't forget if you need power we rent Generators also!!

$75.00

comes with full tank of gas.

If you need quick shelter from the rain or sun we rent canopy's also!!

$55.00 a day

comes with rolling storage bag

Customer set up only

ALL inflatables will come with blowers and a 100' extension cord per blower. If your power supply is further away than 100', a generator will be required!

Customer is responsible for a water hose from water supply to our water unit!! HPR does not supply water hoses!!

Turbo Splash

$285.00

Climb up & Slide down, for lots of water FUN!!

Wet or Dry, WOW what a ride!! 

Dry Price $250.00

colors may vary

Retro Blaster

$285.00

This water slide is a BLAST!!! 

Have a great party with the retro!!

 Call & order this slide.

WOW what a ride!! 

Colors may Vary

Bump N Splash

$285.00

This slide will take your belly with a quick down & then a BUMP N SPLASH at the bottom!! 

Colors may Vary

Tidal Wave

$285.00

Try this water slide for your next event. Great for Luau's for that tidal wave of FUN!! Call & order this slide.

WOW what a ride!!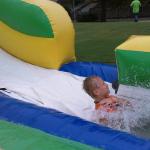 Sometimes our customers call our units different names, such as : bounce house / bouncy house / bouncy / jumps / jump house / jumpy house / jumper / jumping house / jump house / bounce houses / bouncers / bouncing houses / bouncer / moon walk / moon walk bouncers / space walks / moonbouncers / moonbouncer / spacewalk / spacewalkes / moonwalk / moonwalks / inflatable jumpers / inflatable moonwalks / slides / combo houses / slide / bouncehouse slide / waterslide / water slides / inflatable slides / inflatable waterslides / inflatable water slide / waterslides / water slide / air bounce / air rides / inflatable games / inflatable / inflatables / inflatable house / it dosen't matter what name you call our inflatables party rentals or event rentals we have them ALL!! Rent everything you need for your event at Harvest Party Rentals in Knoxville /  Seymour /  Maryville TN / knoxville party rentals / seymour party rentals / maryville party rentals / sevierville party rentals /  knoxville waterslide rental / maryville waterslide rental / sevierville waterslide rental / pigeon forge rentals / ulitamate mega events / for all occasions / any rental rentals you need /  seymour waterrides / seymour rentals / seymour inflatables / sevierville inflatables / tent rentals seymour / tent rentals sevierville / seymour bounce house / seymour slides / sevierville slides / sevierville bounce house /a jump above kodak/ajump /ajumpabovekodak.com